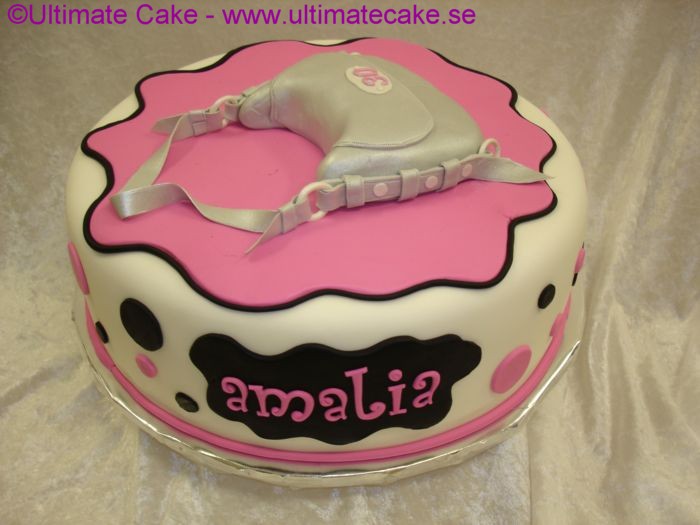 Ja, kära läsare! Äntligen har Ultimate Cake fått tummen ur och ordnat en blogg. Vi hoppas att kunna regelbundet (i mån av tid) visa bilder och skriva steg-för-steg beskrivningar om hur man får till snygga tårtor och cupcakes, och vilka redskap man bör använda och när. En och annan tävling kommer att äga rum också, där vi lottar ut artiklar eller paket!
I början på november var vi i Birmingham, England, för att besöka en av världens största branschmässor för tårtdekoration/sockerkonst. Tre härliga dagar fyllda med demonstrationer, trevliga människor från hela världen, möten med likasinnande vid matbordet, nyheter inom sockerkonst, underbara stunder tittandes på alla fantastiska utställningstårtor.... ja.... helt enkelt helt underbart! Med oss hem har vi massor med idéer, nya produkter, kontakter med nya leverantörer, och inte minst, stora planer!
Vi kommer förhoppningsvis att snart fylla hyllorna i butiken på Fersens väg med massor av nya produkter, såsom cupcakesomslag till bröllop och fest, kavlingsmattor, muffinsformar, silikonformar och roliga utstickare, bland annat.
Håll utkik på hemsidan!
http://www.ultimatecake.se/
In English:
Well, we've finally gotten off our duffs here at Ultimate Cake and have made a blog! Hopefully we'll be able to update our blog regularly with new photos, contests and tutorials on how to make great cakes and cupcakes.
The first week of November found us in Birmingham, England! One of the world's largest annual trade shows for cake decorating/sugarcraft was taking place at the NEC, and we were finally attending! It was awesome to spend three amazing days filled to the brim with sugarcraft, and equally awesome to meet cake decorators from all over the world, as well as bunch of on-line friends. The exibit and competition cakes were stunning, and we spent hours just looking at all the details. There were loads of vendors there, of course, and we spent several days looking at all the stands, meeting with new vendors and eyeing new products.
We'll soon be stocking the shelves in the shop on Fersens väg with lots of new products, including cupcake wrappers, rolling mats, silicon molds and various cutters.
Keep an eye on our website,
http://www.ultimatecake.se/
, as we'll be updating regularly as new products come in.